PASO ROBLES WINE FESTIVAL
May 17 - 19
Steinbeck BBQ - complimenatry nibbles: Saturday & Sunday 12 - 2pm
Steinbeck Vineyards & Winery offers:

Wine enthusiasts are invited behind the scenes with the Steinbeck family, Paso Robles wine country education specialists.
During the spring you will see: supple shoots reaching for the sunlight, bloom, fruit set and all the work associated with spring in the vineyards.
Family members lead this spectacular outdoor wine country tour. Experience wine from the vineyard, through the eyes and heart of the grape growers.
CRASH COURSES are 1 hour
COST: $40.00/person (2 person minimum) $10.00/person after 1st 2
by appointment only, based on family member availability
Tour includes wine tasting and an extra splash of THE CRASH.

Your Experience, Our Tradition!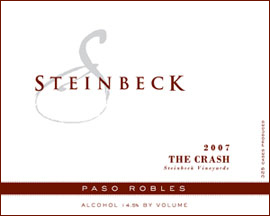 Steinbeck Vineyards & Winery


is beautiful addition to our seven generation Paso Robles family farming history. We've come full circle from the vineyards & wines begun in the 1880's.

We're grape growers; in fact 99% of our fruit is sold to large Paso Robles wineries. Just 1% of the fruit grown on Steinbeck Vineyards is used as Steve crafts our beautiful wines.

Cabernet Sauvignon, Petite Sirah, Viognier and Zinfandel are the varietals we've chosen to craft into 1,000 cases of premium wine. We blend these varietals into THE CRASH, "known as Steinbeck in a glass". Our second blend is Steve's choice of our top three barrels. It's named VOICE because it is the voice of our vineyard and a stunning expression of our Steinbeck Story. The 2008 VOICE is a blend of Cabernet and Petite Sirah.

Our winemaker, Steve Glossner, has an amazing history in Paso Robles and we are thrilled he works with us to help us continue our legacy. His winemaking style brings the varietal characteristics through with an elegant finish that speaks Paso all the way.

We share our rustic tasting room with

owned by Steve and Lola Glossner.

We located at

5940 Union Road
Paso Robles, California
805.238.1854

THURSDAY - MONDAY

11am – 5pm

(last pour 4:45p.m.)




Our tasting room is built on the site of Grandpa Frank's blacksmith shop. The exterior siding is the recycled material from the old shop. The museum-like interior houses the old wine press, the forge, musical instruments and many other historical pieces from our family's past.

Walk through our family's past in our little museum and enjoy the taste of Steinbeck
Vineyards and Winery!

We'll toast the past, the present and the future with you!
Spring 2013 - a beautiful start to the year!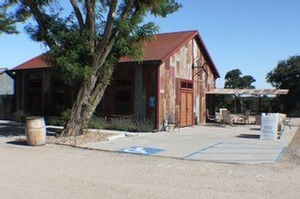 The Steinbeck Tasting Room - Rustic Elegance!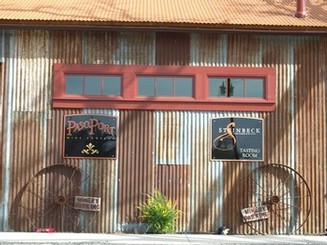 Don't be fooled - the rusty tin siding gives way to an elegant museum-like tasting room.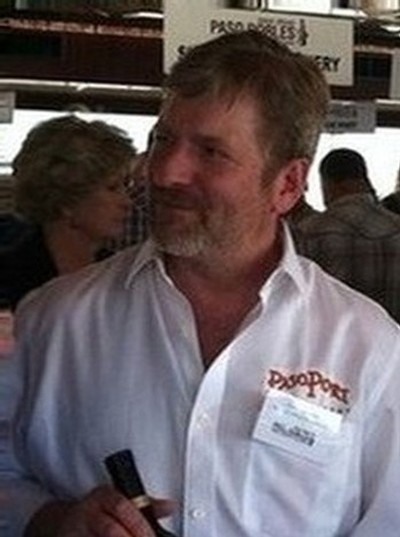 Winemaker Steve Glossner. He and Lola own PasoPort Wine Company. Taste their ports in the Steinbeck Tasting room.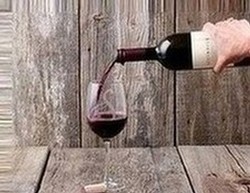 Steinbeck in a glass!