Wine Specials:
2008 & 2009 The CRASH
50% case discount mix & match
Steinbeck Heritage Video
Nominated for best short film - San Luis Obispo Film Festival
March 9, 2014 1pm Palm Theater San Luis Obispo, CA
Steinbeck Vineyards & Winery offers:

Wine enthusiasts are invited behind the scenes, deep into the vineyards with the Steinbeck family, Paso Robles wine country education specialists.
During the winter you will see: dormant vines resting for the winter, pruning and all work associated with winter in the vineyards.
Family members lead this spectacular outdoor wine country tour. Experience wine in the vineyard, through the eyes and heart of the grape growers.
CRASH COURSES are 1 hour
COST: $40.00/person (2 person minimum) $10.00/person (after 1st 2)
by appointment only, based on family member availability
Call 805-238-1854 for information or to schedule a tour.
Tour includes wine tasting and an exhilarating outdoor excursion.

Your Experience, Our Tradition!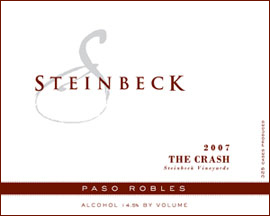 ~~~~~~~~~~~~
The Vine Speaks! by Cindy Steinbeck is now available in our tasting room as well as at Concordia Publishing House and Amazon.
Cindy shares her passion for the vines, The Vine and her faith in this book. John 15 comes alive through the vineyard in
The Vine Speaks!
~~~~~~~~~