Winery Hours:
7 DAYS!
11am - 5pm
Groups of 8 or more please call ahead 805-238-1854
~~~~~
50% Case sale:
2012 Viognier
2011 The CRASH
2011 Cabernet Sauvignon
Online or in tasting room!
~~~~~~~~~~
Our Heritage Steinbeck Documentary
Steinbeck Vineyards & Winery offers:
Call 805-238-1854 for information or to schedule a tour.
Wine enthusiasts are invited behind the scenes, deep into the vineyards with the Steinbeck family, Paso Robles wine country education specialists.
During the spring you'll see:
Bloom​
Fruit Set
Green shoots pushing toward the sunlight
Amazing colors
Family members lead this spectacular outdoor wine country tour. Experience wine in the vineyard, through the eyes and heart of the grape growers.
$10.00/person additional guests
One hour including wine tasting.
BY APPOINTMENT ONLY
** We highly recommend that you call at least 24 hours in advance to schedule your tour - our tours book quickly. Please arrive a few minutes before your scheduled time to fill out the required waiver.
Tour includes wine tasting and an exhilarating outdoor excursion in one of our vintage Jeeps.

Your Experience, Our Tradition!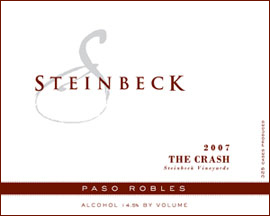 ~~~~~~~~~~~~
The Vine Speaks, Grapes of Grace and The Rock Speaks by Cindy Steinbeck is now available in our tasting room as well as at Concordia Publishing House and Amazon.
Cindy shares her passion for the vines and soil, The Vine and her faith in this book. John 15 comes alive through the vineyard and soil!
Steinbeck Vineyards & Winery


is expression of our seven generation Paso Robles family farming history! We've come full circle from the vineyards & wines begun in the 1880's.
Cabernet Sauvignon, Petite Sirah, Viognier and Zinfandel
are the excellent varietals we've chosen to craft into 1,2500 cases of premium wine. We blend these varietals into THE CRASH, "known as Steinbeck in a glass". VOICE is our blend of Cabernet Sauvignon and Petite Sirah - named to honor Howie who has farmed his entire career but never talked about himself.
Our winemaker, Steve Glossner, has an amazing history in Paso Robles and we are thrilled he works with us to help us continue our legacy. His winemaking style brings the varietal characteristics through with an elegant finish that speaks Paso all the way.
5940 Union Road
Paso Robles, California
805.238.1854
7 DAYS
11am – 5pm
(last pour 4:45p.m.)
Walk through our family's past in our little museum and enjoy the taste of Steinbeck
Vineyards and Winery!
We'll toast the past, the present and the future with you!

The Steinbeck Tasting Room - Rustic Elegance!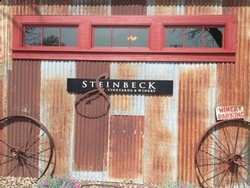 Don't be fooled - the rusty tin siding gives way to an elegant museum-like tasting room.
PETS: Your furry friend is welcome at Steinbeck but must be on a leash.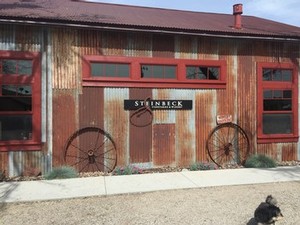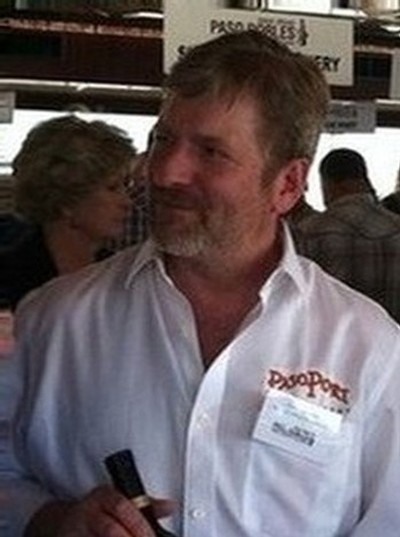 Winemaker Steve Glossner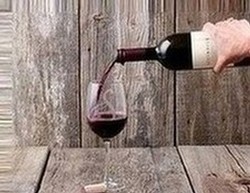 Steinbeck in a glass!