Tasting Room Hours: 11am - 4:45pm 7 DAYS
Tasting fee: $10.00/guest, waived with wine purchase
Groups 6+ please call ahead 805-238-1854
~~~~~
Vineyard Tours: Join us for an exciting
"CRASH COURSE"
- a behind the scenes look into wine growing.


Call 805-238-1854 for information or to schedule a tour.
Family members lead this spectacular outdoor wine country tour. Experience wine in the vineyard, through the eyes and
heart of the grape growers.
Owner Cindy Steinbeck with Jeep-driving dog, Cri Cri
$40.00/person, $10.00/person additional guests
One hour including wine tasting. BY APPOINTMENT ONLY - We recommend that you call 24 hours in advance to schedule your tour.
Our Wines:
Cabernet Sauvignon, Petite Sirah, Viognier and Zinfandel are the varietals we've chosen to craft into 1,250 cases of premium wine. We blend these varietals into THE CRASH, "known as Steinbeck in a glass."
Our Winemaker
Steve Glossner has an amazing history in Paso Robles and we are thrilled he works with us to help us continue our legacy.
His winemaking style brings the varietal characteristics through with an elegant finish that speaks Paso all the way.
Our Heritage Steinbeck Documentary
Your Experience, Our Tradition!
The Steinbeck Tasting Room - Rustic Elegance!
Rusty tin siding gives way to an elegant museum-like tasting room.
Walk through our family's past in our little museum and enjoy the taste of our future at Steinbeck Vineyards and Winery (and a few stories)!
PETS: Your furry friend is welcome at Steinbeck - on leash please.
Above: Join us for a CRASH COURSE of Steinbeck Vineyards in a vintage Jeep - this 1958 Willys has been part of our family since 1960!
~~~~~
Below: First crush - Steinbeck Viognier in our new wine processing facility. Four brands call this home - Steinbeck, Per Cazo & PasoPort, Guyomar and RN Estate.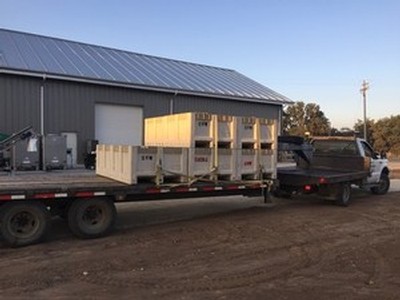 Steinbeck Viognier - 2017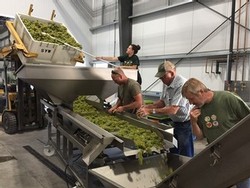 The Vine Speaks, Grapes of Grace and The Rock Speaks
by Cindy Steinbeck is now available in our tasting room as well as at Concordia Publishing House and Amazon. Cindy shares her passion for the vines and soil, The Vine and her faith in this book. John 15 comes alive through the vineyard and soil!
We're pouring our 2012 and 2013 vintages