Steinbeck Vineyards & Winery offers


CRASH COURSES
in-depth, outdoor tours of our family vineyards.



CRASH COURSES are designed with the wine enthusiast in mind. You are invited behind the scenes, deep into our vineyard with the Steinbeck family, Paso Robles wine country educational specialists.
Choose one of three modules, led by family members, for a spectacular outdoor central coast wine country experience into a glass of wine.
CRASH COURSES are 1 hour
COST: $40.00/person (2 person minimum) $10.00/person for additional guests. Children free.
Your personally crafted tour includes: An extra splash of THE CRASH for the tour, 1958 Willys Jeep ride, educational presentation, private wine tasting and answers to your questions about growing a premium wine.
"Wine starts in the vineyard!"

Wine Education via the Vineyard –
in the beautiful Paso Robles Wine Country
CRASH COURSES are a fast paced excursion into wine from the Steinbeck's eyes. Tours include your choice of the modules listed below and an overview of the Paso Robles Wine Region, the seven-generation Steinbeck Story and complimentary wine tasting.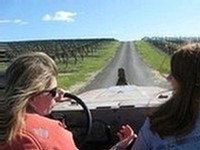 CRASH COURSES begin at the Steinbeck Vineyards & Winery tasting room where we board a vintage jeep and journey through Steinbeck Vineyards. Crash Courses (1 - 1.5 hours) conclude with wine tasting in the Steinbeck Tasting Room.
Cost: $40.00/person
Modules: (Please identify your chosen module when reserving your journey into a glass of wine through our vineyards)
1. Wine Growing Through Our Eyes – Why we do what we do in growing wine, our vineyard practices, planting a vineyard, conservation efforts, a discussion of organic vs. sustainable practices if you're interested, our soils, our water, and the challenges of we face growing wine.
2. Home Tours & the History of the Paso Robles Region – Tour the vineyard with an emphasis on the history of agriculture and wine growing in Paso Robles, challenges pioneering families faced, and family stories are included.
3. My Father's Vineyard: The Wisdom of the Vine – Let the vine speak to you Cindy unfolds her perspective on the words of Jesus, "I am the Vine, you are the branches" from the vineyard. Analogies from the vineyard bring these words to life.
Family instructors:
Howie Steinbeck, founder of Steinbeck Vineyards and fourth generation Paso Robles native, has farmed this land since childhood and has a wealth of practical knowledge and wisdom. He loves to show you what he's built with his hands and heart.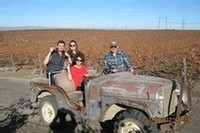 Bev (Jespersen) Steinbeck, Howie's wife and fourth generation Paso Robles native, has helped build this business from the ground up. Bev serves as home tour guide. She'd love to share old family recipes.
Cindy Steinbeck, has learned wine growing from her father, so she leads modules 1 & 2 from a farmer's perspective. She also has a passion for history, learning, teaching and the future of the family business. She earned an M.A. in history and theology from Concordia University Irvine, so she brings The Vine's words to light for you, from her vineyard (third module only).
Ryan Newkirk, Cindy's son and Howie and Bev's grandson is a sixth generation son of this land He continues to learn from the master, his grandfather. He teaches based on years of practical experience and tells our Steinbeck story from the heart.
Crash Course:
• Reservations required
• Outdoor activity requiring moderate exertion
• Large group rates available - step on bus guide experience
• Please wear comfortable outdoor attire
• Bring a camera
Summer bring: A hat, sunscreen and water
Winter: Warm attire