Our History

---
135 Years - 7 Generations - 1 Family
Steinbeck Vineyards & Winery is a boutique family owned and operated winery in the heart of California's Central Coast, Paso Robles. Our family has been farming here for seven-generations, since 1884. Our ancestors were pioneers in many aspects of farming in Paso Robles, including wine grapes and wine in the year 1900. Our family continues that fine, pioneering tradition through our elegant wines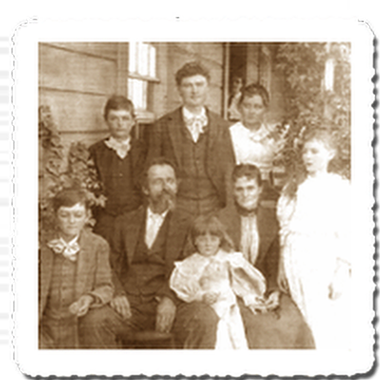 The Ernst Family
Moved from Geneseo, IL to settle and name Geneseo, CA in 1884. Historic Geneseo, CA is located 4 miles East of downtown Paso Robles and only a couple miles Southeast of the Steinbeck family's current estate Vineyards. The Ernst family planted 25 varieties of grapes for making wine, most notably taking cuttings from a UC Davis experimental project in California. Click here <link article> for an article featuring their wine production from 1900 and 1901.
Frank and Rosie Ernst
Howie's grandparents on his mother's side, purchased what is now Steinbeck Vineyards in 1921. During their purchase, they built the ranch home, the old barm, and the background of this photo, taken in 1948 just shortly before Frank's death, is the blacksmith shop – since converted to become our wine tasting room.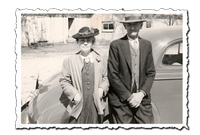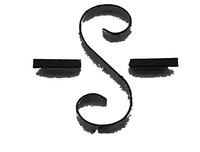 Cattle Brand - 'Bar S Bar'
Back when the Steinbeck family was farming grain and cattle, they registered the '-S-' symbol to the left as their official brand so their cattle could be recognized as Steinbeck property. We proudly display the original signet of the family on our driveway next to our new vineyard and winery logo.
---
1950s
1956
The Crash
1960s
1970s
1980s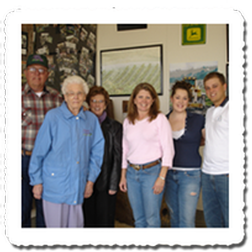 Hazel Steinbeck
The next matriarch of the family is flanked by Howie & Bev on the left and Cindy, Caitlin & Ryan on the right in a photo taken a few years before her death at 97 years old in 2007. Her passion for her family led her to call her 4 children, 16 grandchildren and 43 greatgrandchildren on their birthdays each year. She loved talking about the family businesses and was so proud that her son, granddaughter and great-grandson and their families continue the fine pioneering traditions of her parents and grandparents.
---
---
Howie and Beverly
Steinbeck
---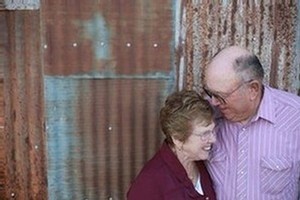 Highschool sweethearts, Howie and Bev remain strong companions, friends, and partners as they have raised their four children and watched their seven grandchildren grow. Howie's passion for farming began at 4 years old at his grandpa Frank's side. Now he's the grandpa; teaching his grandson, Ryan, the grape growing business. Howie and Bev are known for their hospitality and for the food and experiences they create for their guests. Howie has been a leader in viticulture in Paso Robles since 1970, and established Steinbeck Vineyards in 1982.
---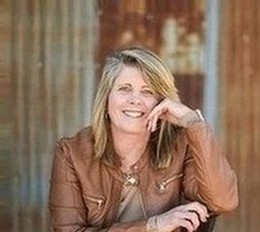 Cindy Steinbeck
Moved back home in 1997 after a career in family life ministry to help with the family's growing vineyard business. Her desire to create an expression of their passion for wine, together with her commitment to the success of Howie & Bev's businesses led her to create Steinbeck Vineyards & Winery in 2006. The boutique tasting room and the CRASH COURSES at Steinbeck Vineyards in their expansive vineyards gives guests an opportunity to really know the family and experience wine from the vineyard. Cindy's two children, their spouses, and five grandchildren live near the vineyard and play often and Grandma Cindy's home. Cindy travels extensively selling wine and also serving as a guest speaker at Christian events around the country. She's written four books, The Vine Speaks, Grapes of Grace, The Rock Speaks, and Redemption Through Divorce, all of which reflect her passion for the vineyards, her family, and her faith. Her educational videos and presentations lead people to deeper understanding of the Scriptures as they connect to the life of her Vineyard.
Cindy married long-time friend Steve Schedler in February 2021. The two reside part time in their homes -- one in Steinbeck Vineyards, one in San Diego.
---
Growing into the Future
Progressing from grain and cattle to growing grapes for wine produciton, or 'Wine-Growing', a new logo emerged. One that represents three major aspects: Firstly the S as the family initial, secondly as grape vine tendrils wrapping around each other as you might see in the vinyeard, and thirdly as the shape of the wine we now make being poured into one of our wine glasses.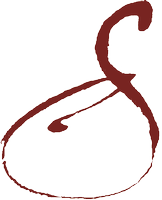 ---
Ryan and Caitlin Newkirk
Growing up, Cindy's son Ryan always knew his dream was to work side-by-side with his Grandpa, Howie, and to continue the family legacy. In 2004, he attended California State University, Fresno where he met his wife Caitlin. He is Operations Manager for our vineyards and works closely with Grandpa in growing the premium grapes Steinbeck is known for. Ryan is proud to continue the grape growing heritage of the family. He and Caitlin have two children, Bradley and Amelia.
---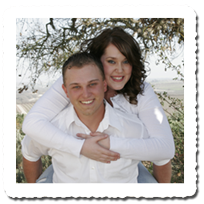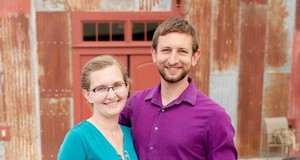 Stacy and Bryan Widstrand
Cindy's daughter, Stacy travelled for university in Chicago, Illinois to study music in 2005. During her time there she met a fellow singer, Bryan Widstrand and the two quickly fell in love and got engaged. When they moved to California, Stacy's husband learned the art of winemaking at a nearby winery, which led to Stacy and Bryan living halfway around the world for nearly four years, with Bryan working as a winemaker in the north-east of the island state Tasmania, Australia. In 2018 Cindy invited the two to come home and work beside her in the family business in winemaking, sales, and marketing. Stacy and Bryan live a few miles down the road from Steinbeck Vineyards and have three children, Joryn, Allora, and Cyrus.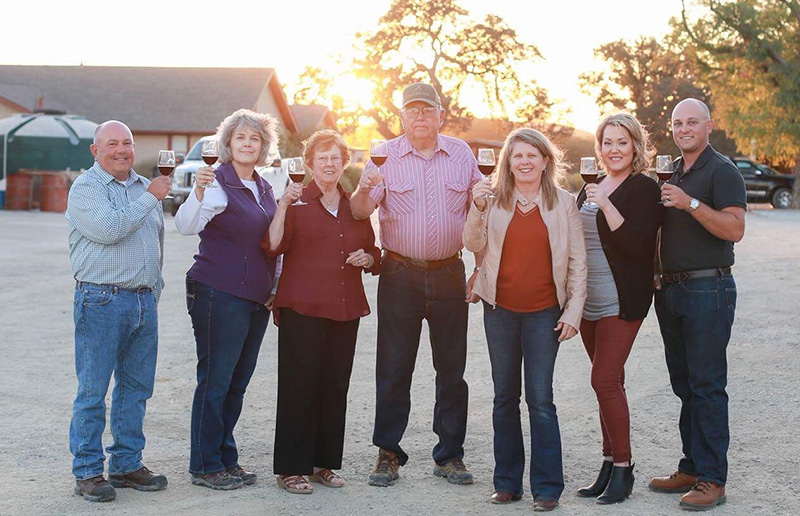 Birthday Tribute to Howie
The Central Coast produces wines and families, both rich in character. With roots deep in soil and tradition, strong with sun and care, generations have brought for the land's bounty; steady hands and earnest work and honest rest.From generation to generation: father, son, daughter, sister, brother, wife — lessons learned and wisdom earned and the hope that the seasons next may bear truer fruit of deeper roots. A pruning, a firm hand, direction, discipline; all to a successful harvest. In wine as in the lives of men; strength, character, integrity are the hallmarks of greatness; qualities that stand the test of time. From humble beginning both: the vine and the boy, to the grape and the man, now the vintage and the grandfather; shaped by years and experience, faith, love and commitment; presented here not as an end, but as a new beginning, another season of growth and blessings. -- written by son, Keith Steinbeck
---