Redemption Through Divorce
How Christ Works in Broken Hearts Creating Hope and Healing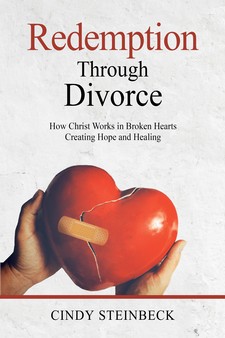 Divorced? Feeling shame, anger, or despair? Your beautiful dream was shattered and your heart is broken. Is it possible for Christ to work through your pain? Is God's love big enough to mend your broken heart?
Author Cindy Steinbeck understands because she has journeyed through divorce and into healing. Her wisdom is organic and her stories are transparent.
Christ works through pain, brokenness, and even divorce. While exploring Christ's creative work, Cindy also wrestles with these important questions:
-Why did God say, "I hate divorce?"
-Where is true intimacy found?
-Will I ever be able to forgive?
Walking this redemption journey with Cindy will awaken you to God's love and faithfulness for you. Trust Him! Hold onto hope! Healing is truly possible in Christ, the One who redeems.
Product Reviews